You may remember last year's report, stating that both 2014 and 2015 were stellar markets for home sales in Des Moines. In 2016, the market continued to show homes selling at a frantic pace, outpacing both 2014 and 2015. In 2016, over 14,000 homes were sold, in all price ranges, from under $100,000 to over $1,000,000. The most homes were sold in the $100k-150k price bracket, followed by the $150k-200k bracket. For all you number geeks, here are the sales by price bracket in the past three years (may not include For Sale By Owner, sale price in thousands):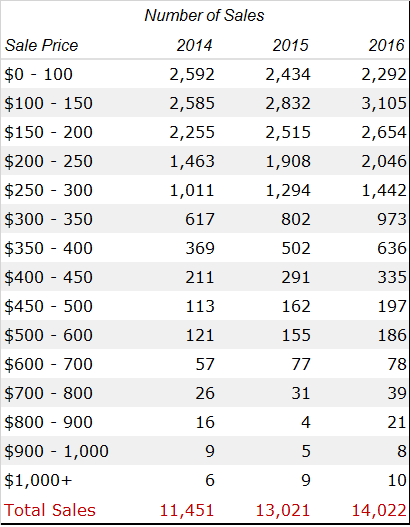 In Des Moines, we have 2,930 active listings as of Jan 24th, which translates to roughly 2.5 months of active inventory on the market.
So what does this mean to you?
1- If you are looking to sell, NOW is the time. I see comments from fellow realtors all the time; their buyers are looking for the right house and can't find it yet. Is yours the one?
2- "But Nora," you say, "if I'm looking to buy, doesn't this mean I have lots of competition?" Yes and no. The spring market is here, but many buyers wait until the weather gets milder to get out there. If you are looking to buy this spring or summer, start looking right now. You don't want to wait until mortgage interest rates go up, and you certainly want to beat other buyers into the market this year.
3- If you are looking to stay put, then just stay put! But, make sure to keep maintaining your house, and if you want to make improvements, keep an eye on possible resale in the future. You can check out my blog post on best returns on home improvement projects here.
Whether your 2017 plans involve a move or not, I'd love to hear from you. What do you want to see in future newsletters? Email me anytime!